TMS from OVIS software is a unique all-in-one software solution for telecom operators. The idea behind TMS is to have a single software solution for every company functions. Single solution that everybody knows how to use. Single workplace for every employee. Providing each employee exactly the information they need, without overcrowding them. Allowing them to do their job without having countless spreadsheet files across departments.
TMS is also more than just service software, we include proven procedures for completing common telecom tasks like activating a customer, handling support tickets, organizing networking department, or day to day planning of field install teams.
Customer management and CRM

Central entities in the TMS are your Customers. They are tracked during all phases of their lifecycle and all the relevant information is always a click away. Be it in the cus- tomer application phase or after they stopped using your service. Customer informa- tion, accounting details, service details, support tickets, legal documents or invoices, all are tracked and organized for easy access and overview.
TMS system provisioning module can provision a wide array of customer systems ranging from Cable, Wimax, Wireless to Fiber and VOIP. Specific provisioning options for dedicated manufacturer systems are easily integrateable. Many of them are already built-in. Once the customer is entered into the system and assigned a service, it is automatically provisioned based on its workflow (Customer-Account-Contract-Install date/team-Provision devices-Inventory-changes).
Service administration allows managing services and turning them into packages sold. Uniting the technical aspect and business aspect of services (prices, discounts, speed, free minutes, call routing, call rates etc.)
Longterm graphing and statistical analysis for bandwith, signals and other tehnical parameters.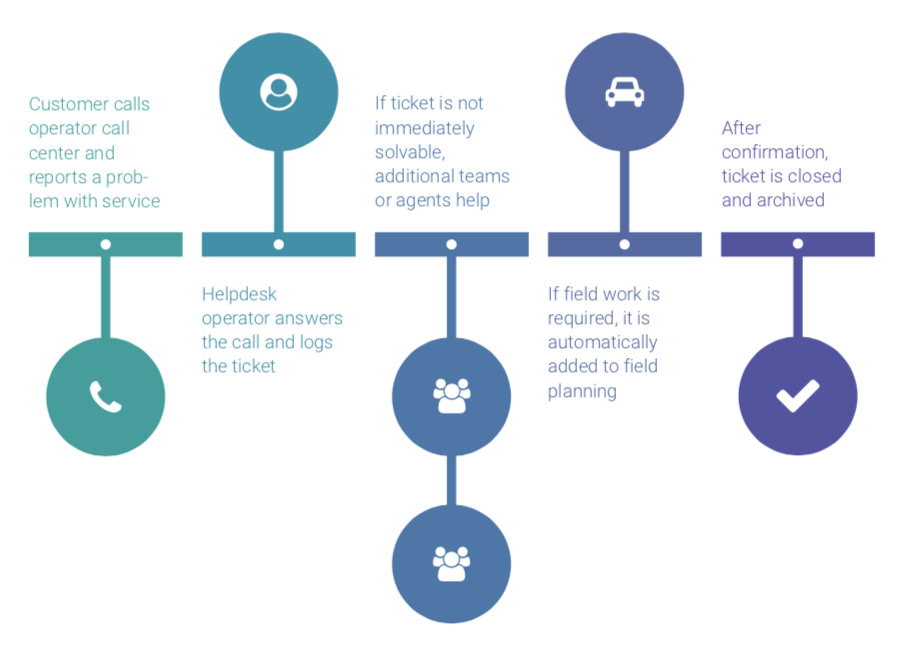 Helpdesk module enables creating, solving and tracking of customer support tickets. Enabling the company to organize their helpdesk department in any way they like: multiple support levels, ticket categories and classes etc. All the relevant customer information is easily accessible from the helpdesk screen along with all the previous tickets.
Multi-level, multi priority helpdesk module, integrated with internal team tasks. Easy management of multiple helpdesk teams.
• Fast ticket searching and links to customers and services
• Automated warning and alarms for SLA's
• Easy helpdesk ticket invite for colaboration with non-helpesk personel
• Integration with User portal
• Automated ticket opening via email subsystem
• Integrated with project manager for field work planning
TMS keeps track of all created documents for easy classification and access. After deployment, system is configured to create custom documents based on client requirements.
• Automatic document creation from every workflow stage • Legal documents
• Invoices
• Sales receipts
• Work orders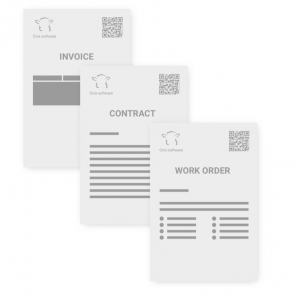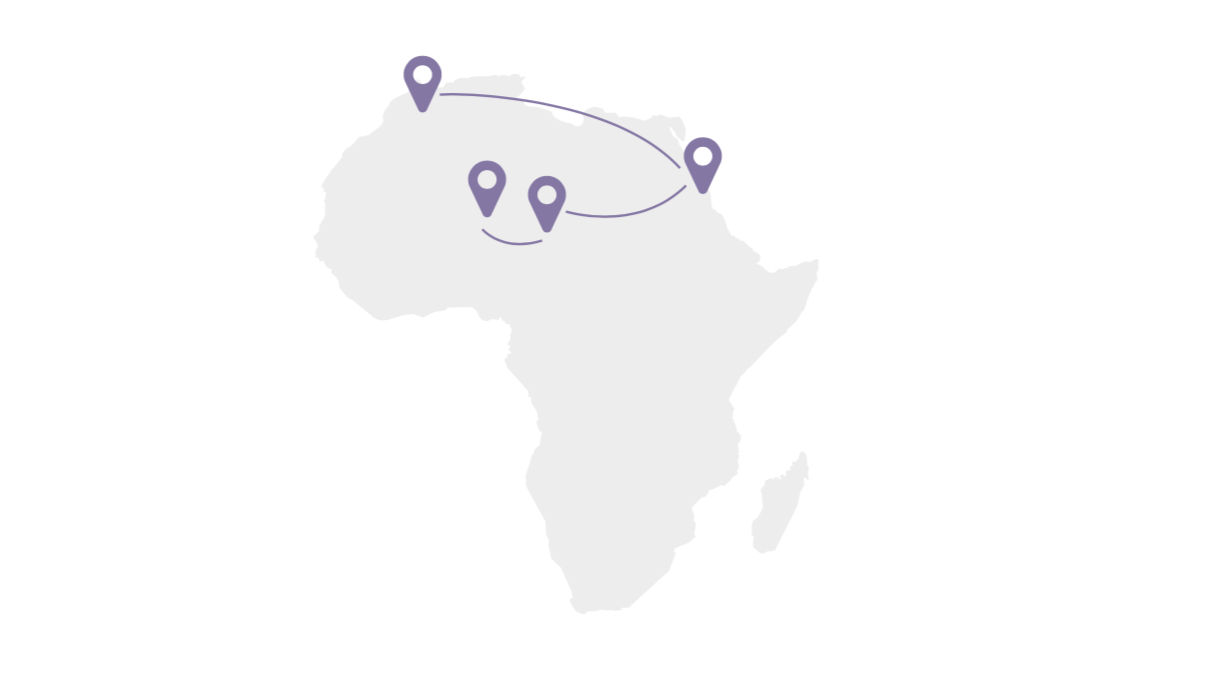 Project manager is a tool for planning and tracking field teams. It is integrated with helpdesk and tasks which it uses for input of work. With those inputs project manager (person) can efficiently plan workdays for unlimited number of teams. System also automatically creates work orders and all necessary documents. Advanced prediction and reporting modules are also included.
• Day-to-day planning of field teams
• Integration with helpdesk and internal tasks
• Per team tracking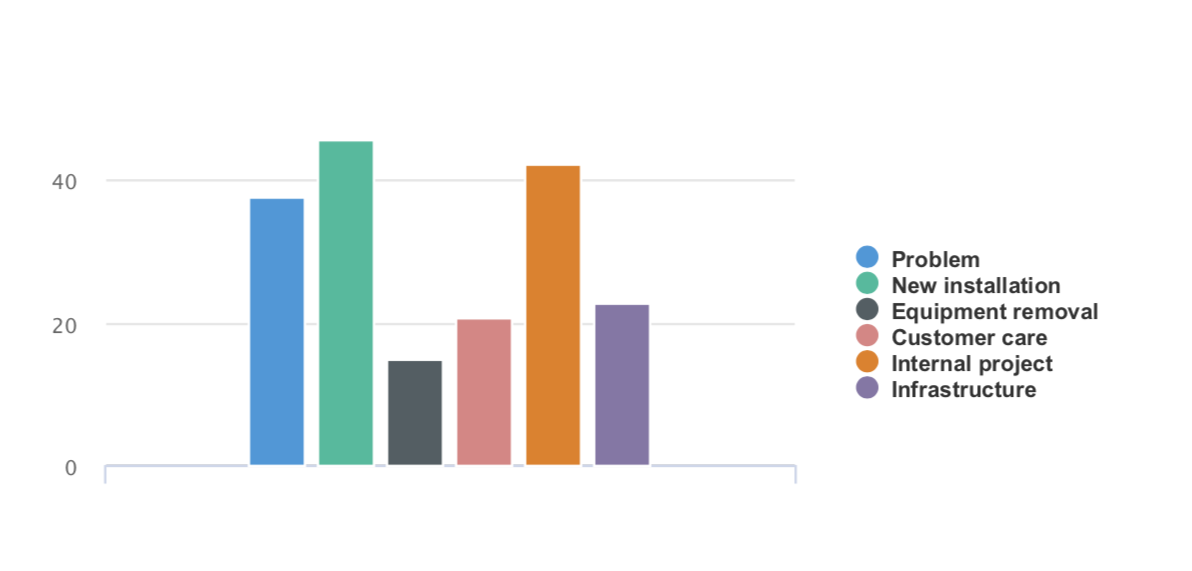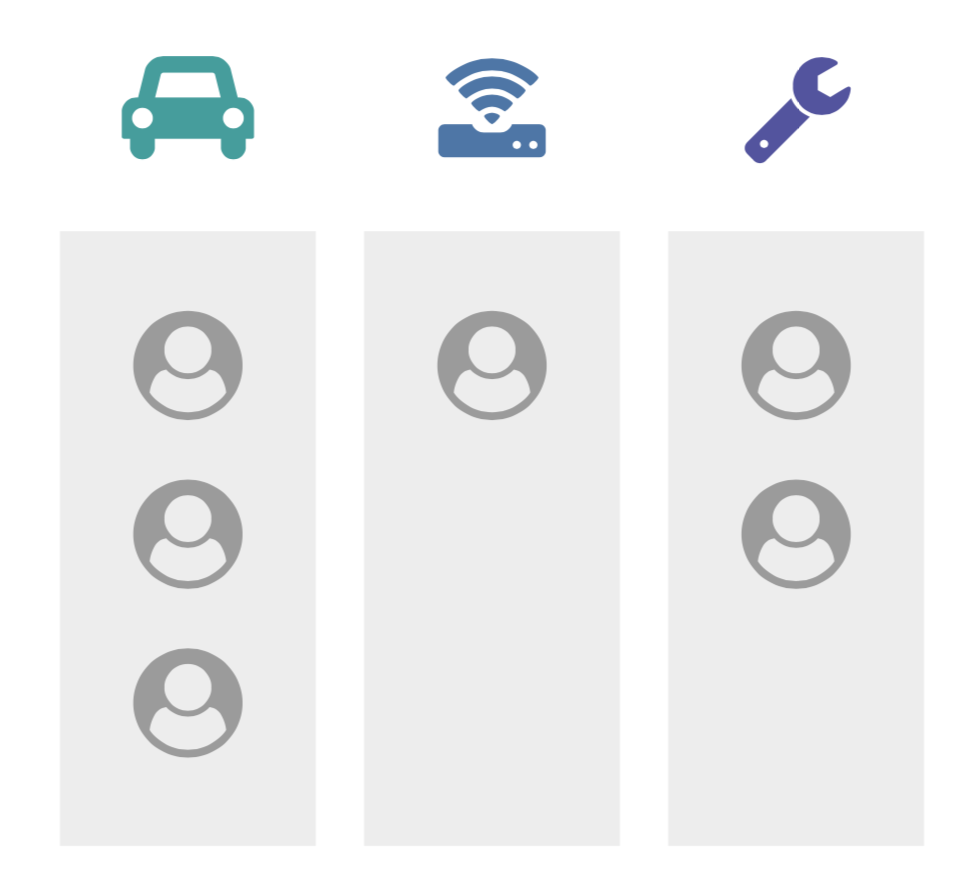 Inventory module tracks company inventory based on serial numbers, mac addresses or any other parameter. System supports multiple warehouses, defunct equipment and tracking by amounts only (for example meters of cable or number of power injectors). Every item can be assigned to a warehouse, team or customer. Items are moved automatically as part of the business processes.
• Track company inventory – through every process automatically
• Support, for serial numbers, mac address, types, subtypes, item assignment (customers, installer teams, warehouses)
• Integration with accounting systems
Tasks module enables employees to be organized into teams and work with tasks across teams and departments. Helping teams perform better, tracking work load and helping management get a grasp on performance of the company. Integration with the helpdesk module enables for example, sysadmins to do their work but also help solve complex customer support tickets.
• Efficient tasking system for multiple teams
• Cross-team tasks
• Easy and fast task searching
• Time tracking for teams, employees and tasks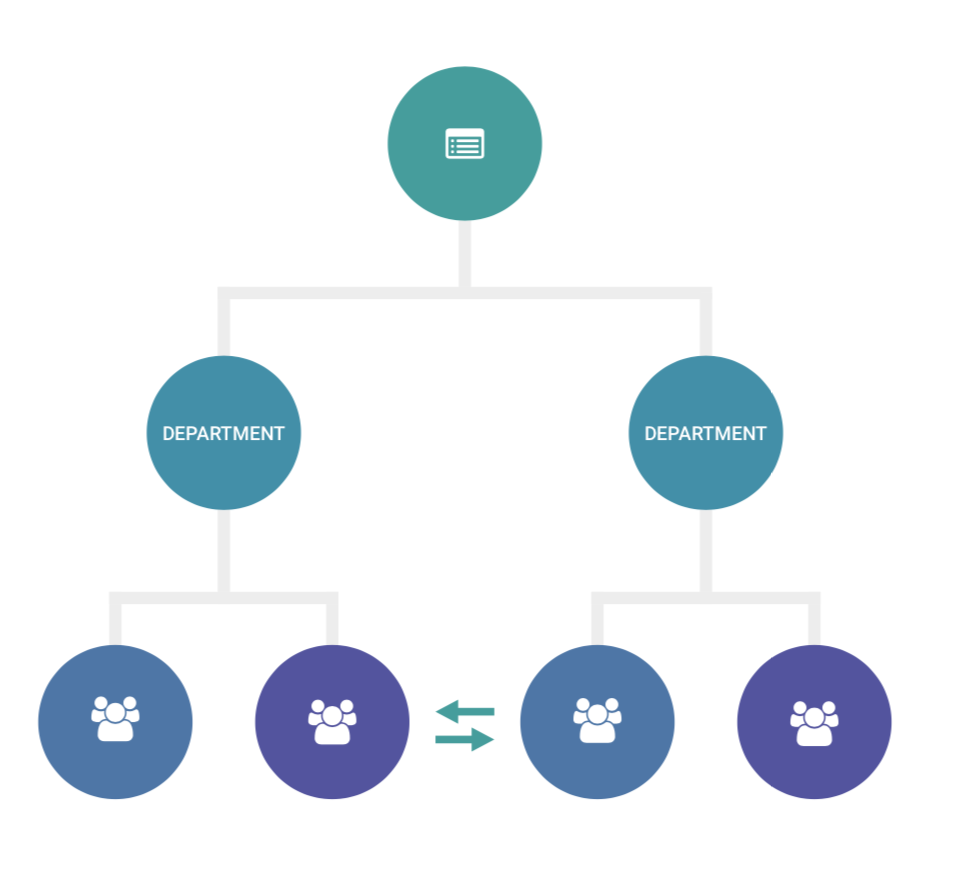 Billing is responsible for calculating real-time cost of every user action. Usually that means activation of user service, adding additional one time charge or placing a phone call.
Scalable multiagent real-time billiing
Real-time voice billing
Postpaid billing and invoice generation
Prepaid billing
Single invoice/sales receipt generation
Prepaid card generation
Integration with accounting sytems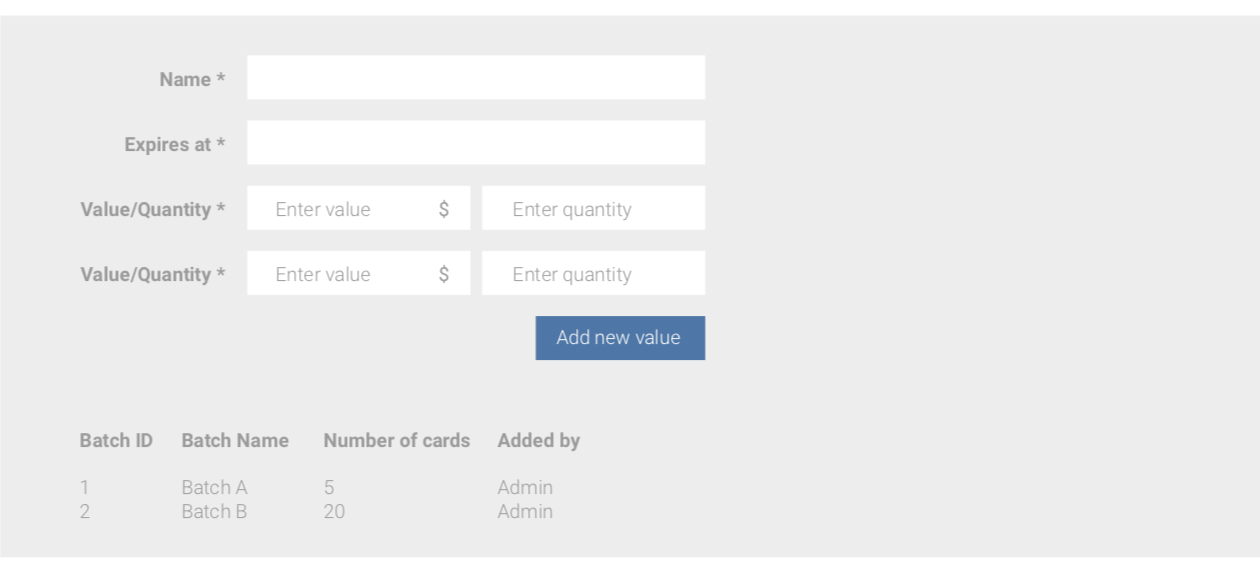 Voice administration allows managing local softswitch: configuring users, routes and voice profiles. Available with OSS or any other SS integration.
• Trunk configuration
• Custom destination groups (preconfigured and updated for all possible destinations)
• Route maps (different routes applied to different service packages)
• Least-cost routing
• Pay profiles (different destination prices for different service packages)
• Any routemap-payprofile combination
• Destination overrides – digit manipulations
• Selective DID activation
• CDR analyzer
User portal part of the TMS enables customers to access their own portal pages. On their portal pages customers can view and change, if applicable, their legal info, service information, apply prepaid cards, change email addresses.
If configured customers can also view their invoices, payments, helpdesk tickets etc.
Customer users portal with access to all customer information:
• Call records
• Financial records – invoices (paid/unpaid)
• Personal mail administration
• Support tickets
• Prepaid card activation
• Addon services activation
Allows TMS administrators to setup security for employees and restrict TMS access. Also provides detailed log of all TMS actions (for example in case of unauthorized discounts to Customers).
• Fine-grained security model with access control lists for read, write, delete access to every part of system.
• Audit log for every TMS action with fast searching
• Customer IP history
CAS administration allows managing CAS (conditional access system) products. Allowing administrators to limit channels for customers and arranging them into boquetes.
• Integration and profile customization for any CAS system
• Track car fuel usage
• Receive reminders for service intervals or vehicle registrations
• Integrate with fleet management for location tracking and configuration
• Work hours tracking
• Overtime
• Vacations
• Sick days
• Accounting integration and reporting
Custom business intelligence reports tailored for every customer with information from every part of the system
24/7 and on-site support
Whether you need remote or on-site support, OVIS will provide their best technicians and engineers to solve a problem as soon as possible